Meet Dr. Tim Wood
Starting Early for a Healthier Childhood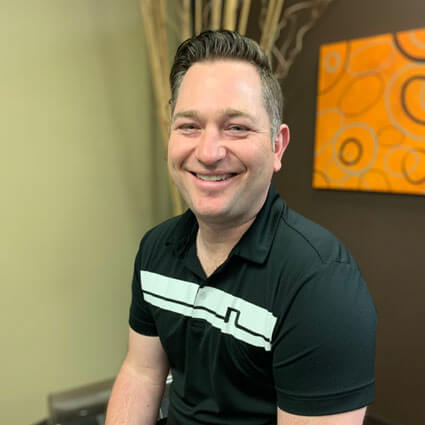 Under chiropractic care since age 5, Dr. Wood knew early on that he wanted to become a chiropractor. His first experience with a chiropractor came about after falling off a zip line at a playground. His parents, who saw a chiropractor regularly, rushed him to see one. From that point on, their family got adjusted. The chiropractor was their first stop for health care.
I was always fascinated with health and the human body. I grew up in a home that looked for more natural ways of being healthy. I didn't see a medical doctor often as a child, but instead focused on regular chiropractic care, nutrition and maintaining health naturally.
Understanding the Value of Chiropractic
Dr. Wood attended Canadian Memorial Chiropractic College. One of his cousins was a chiropractor who spent time mentoring him, greatly influencing the way he practices today. "He encouraged me to travel around, exposing myself to all that chiropractic could offer and learn different adjusting techniques." Dr. Wood went all over North America to conferences focusing on the latest research, adjusting techniques, and expanding his understanding of what chiropractic can offer people.
Helping Families Find Greater Wellness, Naturally
Since that time, Dr. Wood has helped thousands of people attain better levels of health, performance and vitality. He practiced in three bustling offices in the UK before settling in Kelowna and opening Mission Family Chiropractic.
He focuses on helping the whole person and leads advanced workshops to help people gain the knowledge they need to enjoy greater well-being from the Inside-Out. A fellowship in Pediatrics and Pregnancy from the International Chiropractic Pediatrics Association has equipped Dr. Wood with expertise to help pregnant clients and children of all ages. His desire to get to the root of your problems and correct your alignment resulted in a focus on postural corrective care early in his career. This has involved intensive training in many adjusting techniques such as Chiropractic BioPhysics® (CBP®).
EXPLORE CHIROPRACTIC
Getting the Most Out of Life
It was in chiropractic college that Dr. Wood met his wife, Suzie. They've been on adventures all over the globe together. Their first child, Owen, was born while they lived in the UK. Since then their family has welcomed Jonah and Sienna. They love traveling together and discovering the local food and wine, both in B.C. and abroad. During the winter, they enjoy skiing, and in the summer spend time swimming, playing tennis and soccer, riding their bikes and going for walks with their dog, Murphy, who you might see at the practice.
Being a Part of Our Community
Dr. Wood has coached local volleyball, soccer, baseball, and hockey teams. It's important to him to be involved with our community. He and his family have been active members of a few local churches such as Kelowna Gospel Fellowship Church. They have been involved with children's ministry and Dr. Wood and his son, Owen, have been a part of many worship bands, playing bass guitar and acoustic guitar. They are a musical family with Owen playing drums, all types of guitar and back-up vocals for his duo @70X7_music, Jonah playing drums and some guitar and Sienna playing piano and singing vocals.
Dr. Wood spent 6 years on the board for Kelowna Christian School serving as both vice-chair and chair over that time. Their family supports various organizations locally, nationally and internationally, such as Compassion Canada, through which they have sponsored three children, Chiropractors with Compassion, Child of Mine, and the International Justice Mission. They have a passion for helping their local community thrive while also keeping a focus on helping around the world.[/notebox]
Find out how we may be able to help you by taking advantage of our new client special. Contact our friendly, helpful team today!
---
Dr. Tim Wood | (250) 712-0900